A.I.S. Resources Limited Announces Initial Sampling at Guayatayoc
Vancouver, British Columbia – January 3, 2017 – A.I.S. Resources Limited (TSX – NEX: AIS.H) (the "Company" or "AIS") is pleased to announce that the results of the initial sampling program at Guayatayoc Salar have been received from the University of Salta, Argentina. Professor Dr Ricardo N Alonso supervised the analysis.
Highlights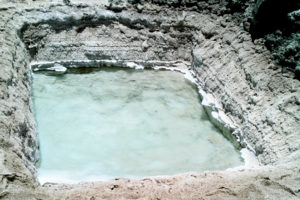 Sample Pit one returned a lithium value of 770ppm (0.077% Li) and a magnesium to lithium ratio of 0.72:1
Sample Pit two returned a lithium value of 250ppm (0.025%) and a magnesium to lithium ratio of 1.44:1
11 pits have been dug in the past two weeks in Guayatayoc and sampled under the supervision of Dr Alonso. Another 13 will be completed in January 2017.
While the values above are not statistically significant they represent one of the lowest lithium to magnesium ratios in the lithium triangle. This means a lower cost of production.
Location of the Sample Pits
Sample pit 1 (6) – S23° 20.721′ W65° 51.169′
Sample Pit 2 (7) – S23° 21.167′ W65° 51.144′
Method
Phil Thomas, COO and Exploration Director and Marc Enright-Morin, CEO accompanied by local geologists visited the Guayatayoc Salar in November 2016 and conducted a sampling program.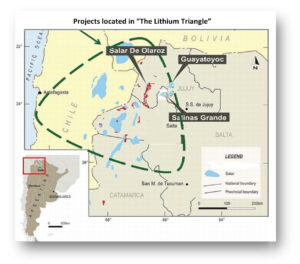 Two one litre bottles were rinsed out in brine from the sample pit and were immersed by hand to the middle depth of the pit, which was about two metres by two metres wide and two metres in depth with brine depth about one metre. The sample bottles were immersed approximately 0.5 metre and filled and capped with no air in the bottle. The elevation was 3,410 metres.
The samples were given to Dr Alonso for analysis at the University of Salta and twin samples were sent to the Australian National Measurement Institute ("NMI") in Sydney, Australia which is one of the highest rated analysis institutions in the world. It is responsible for Australian measurement standards. The results from University of Salta are outlined below. The results from NMI will be available in late January.
Sample Pit Two Analysis
| | | | | | | | | | | | |
| --- | --- | --- | --- | --- | --- | --- | --- | --- | --- | --- | --- |
| Sample ID | Na % | Li % | B % | K % | Ca % | Mg % | SO4=% | Cl- % | Density g/cm3 | Residue % | pH |
| G Sample 1 (6) (Lag. Guayatoyoc) | 12.36 | 0.025 | 0.088 | 0.764 | 0.068 | 0.036 | 1.18 | 18.49 | 1.20 | 34.86 | 7.54 |
| G Sample 2 (7) (Lag. Guayatoyoc) | 12.54 | 0.077 | 0.310 | 1.99 | 0.032 | 0.056 | 3.53 | 18.45 | 1.22 | 39.17 | 7.10 |
Commentary
Lithium values are in the range that would be considered exceptionally commercial.
Magnesium to lithium ratios of 0.72:1 and 1.44:1are excellent. Most salars are in the range 4:1-13:1. The traditional fractional crystallization technique uses one tonne of sodium sulphate for every tonne of magnesium to remove the magnesium. At prices between $175-$250 per tonne of sodium sulphate Guayatoyoc's lower magnesium to lithium ratios will minimize processing costs.
Sodium values are lower than expected as the most common values in the lithium triangle are much higher. This may be due to the type of salar being a laguna rather than an enhedric closed style salar found in other parts of Argentina. The high boron values are to be expected as ulexite mining has taken place over the past 5 years and a thick layer (6-20cm) of ulexite was sampled in many places on the tenement. There is a strong correlation between high lithium values and high boron values. Orris, G.J., 2011, Deposit model for closed-basin potash-bearing brines: U.S. Geological Survey Open-File Report 2011–1283,11 p.
Potassium and sulphate show excellent values for the production of Potassium Sulphate, a valuable fertilizer (also known as SOP or sulphate of potash).
Phillip Thomas, COO said, "These are phenomenal results. We look forward to completion of trenching and further sampling to produce statistically significant values, and assist in the location of core drilling targets in the sub-acquifers on our tenements."
Qualified Person
Phillip Thomas, BSc Geol, MBusM, MAIG, MCIM MAIMVA, CMV MCIM, a Qualified Person as defined under NI 43-101 regulations, has reviewed the technical information that forms the basis for portions of this news release, and has approved the disclosure herein. Mr. Thomas is not independent of the Company as he is an Officer and a shareholder.
About A.I.S. Resources
A.I.S Resources Limited a TSX-V listed investment issuer, was established in 1967 and is managed by seasoned professionals who have a long track record of success in the capital markets. Through their extensive business network, they identify and develop early stage projects worldwide that have strong potential for growth with the objective of providing returns for shareholders.
On Behalf of the Board of Directors, Marc Enright-Morin, President
Contact
A.I.S. Resources Limited
Marc Enright-Morin
President and CEO
T: 778-892-5455
E: memorin@aisresources.com
W: www.aisresources.com
ADVISORY: This press release contains forward-looking statements. More particularly, this press release contains statements concerning the anticipated use of the proceeds of the Private Placement. Although the Corporation believes that the expectations reflected in these forward-looking statements are reasonable, undue reliance should not be placed on them because the Corporation can give no assurance that they will prove to be correct. Since forward-looking statements address future events and conditions, by their very nature they involve inherent risks and uncertainties. The intended use of the proceeds of the Private Placement by the Corporation might change if the board of directors of the Corporation determines that it would be in the best interests of the Corporation to deploy the proceeds for some other purpose. The forward-looking statements contained in this press release are made as of the date hereof and the Corporation undertakes no obligations to update publicly or revise any forward-looking statements or information, whether as a result of new information, future events or otherwise, unless so required by applicable securities laws. Neither TSX Venture Exchange nor its Regulation Services Provider (as that term is defined in policies of the TSX Venture Exchange) accepts responsibility for the adequacy or accuracy of this release.
https://aisresources.com/wp-content/uploads/2016/11/AIS-Logo-1-loading-icon.png
0
0
AIS-H
https://aisresources.com/wp-content/uploads/2016/11/AIS-Logo-1-loading-icon.png
AIS-H
2017-01-03 09:00:49
2017-02-23 09:00:06
A.I.S. Resources Limited Announces Initial Sampling at Guayatayoc