A.I.S. Resources Completes Geophysics at Salinitas, Salta, Argentina
Vancouver, British Columbia – A.I.S. Resources Limited (TSX: AIS, OTCQB: AISSF) (the "Company" or "AIS") is pleased to announce completion of the previously announced Time Domain Electromagnetic (TDEM) survey at the Salinitas lithium brine project (the "Project") located in the Salinas Grande Salar in northwest Argentina. The TDEM geophysical survey was conducted across 52 stations at 500 meter spacings totaling approximately 26 kilometers. Data compilation is underway and interpretation is expected to begin shortly. Based on interpretation of the TDEM data, the Company is now preparing to carry out trenching as well as an auger drilling program to test for shallow, near surface brines that contain anomalous concentrations of lithium and other elements correlated with geophysics in preparation for definition of drill targets.  The work is being supervised by Phillip Thomas Director of Exploration.
About the Salinitas Lithium Brine Project
The Salinitas tenements are located in the lithium triangle at the Salar de Salinas Grandes, in the Province of Salta. The 4,308 hectare land package resides in the Puna region of northwest Argentina near the border of Chile, an area renowned for its lithium- and potassium-rich brine resources. AIS has partnered with MGX Minerals (CSE: XMG) on the Project who is currently earning an undivided 80% interest by incurring total exploration expenditures of at least US$1.2 million by May 31, 2020 and by making payments totaling US$3.2 million which are primarily due at that time.
Figure 1. TDEM Stations at Salinitas Brine Project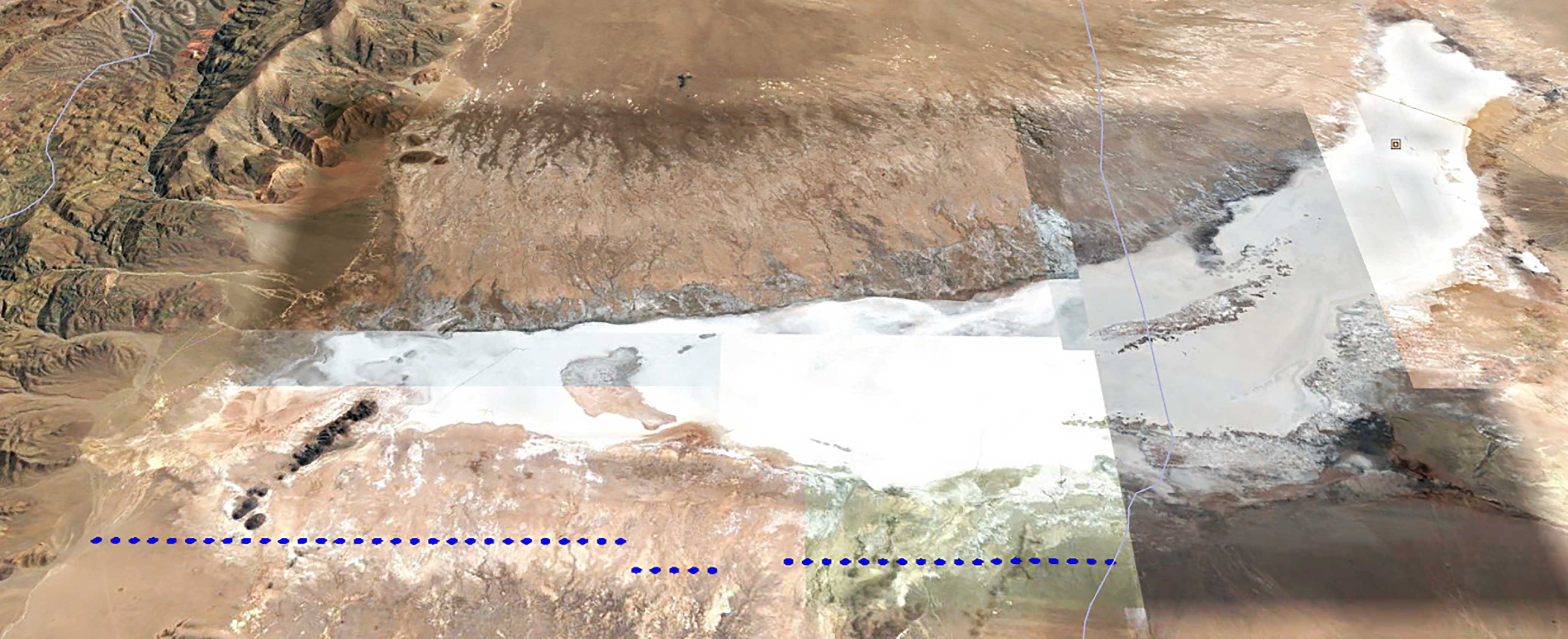 Qualified Person
Phillip Thomas, BSc. Geol, MBusM, MAIG, MAIMVA, (CMV), a qualified person as defined under National Instrument 43-101 regulations, has reviewed the technical information that forms the basis of this news release, and has approved the disclosure herein. Mr. Thomas is not independent of the company as he is an officer and shareholder.
About A.I.S. Resources
A.I.S. Resources Ltd. is a TSX-V listed investment issuer, was established in 1967 and is managed by experienced, highly qualified professionals, who have a long track record of success in lithium exploration, production and capital markets. Through their extensive business and scientific networks, they identify and develop early-stage projects worldwide, that have strong potential for growth with the objective of providing significant returns for shareholders. The Company's current activities are focused exclusively on the exploration and development of lithium brine projects in northern Argentina.
On Behalf of the Board of Directors,
AIS Resources Ltd.
Marc Enright-Morin, President and CEO
Corporate Contact
A.I.S. Resources Limited
Marc Enright-Morin
President and CEO
T: 778-892-5455
E: memorin@aisresources.com
W: www.aisresources.com
ADVISORY: This press release contains forward-looking statements. More particularly, this press release contains statements concerning the anticipated use of the proceeds of the Private Placement. Although the Corporation believes that the expectations reflected in these forward-looking statements are reasonable, undue reliance should not be placed on them because the Corporation can give no assurance that they will prove to be correct. Since forward-looking statements address future events and conditions, by their very nature they involve inherent risks and uncertainties. The intended use of the proceeds of the Private Placement by the Corporation might change if the board of directors of the Corporation determines that it would be in the best interests of the Corporation to deploy the proceeds for some other purpose. The forward-looking statements contained in this press release are made as of the date hereof and the Corporation undertakes no obligations to update publicly or revise any forward-looking statements or information, whether as a result of new information, future events or otherwise, unless so required by applicable securities laws. Neither TSX Venture Exchange nor its Regulation Services Provider (as that term is defined in policies of the TSX Venture Exchange) accepts responsibility for the adequacy or accuracy of this release.
https://aisresources.com/wp-content/uploads/2016/11/AIS-Logo-1-loading-icon.png
0
0
AIS-H
https://aisresources.com/wp-content/uploads/2016/11/AIS-Logo-1-loading-icon.png
AIS-H
2018-08-13 11:00:08
2019-02-07 01:49:15
A.I.S. Resources Completes Geophysics at Salinitas, Salta, Argentina