A.I.S. Resources Congratulates Recharge Resources on Signing Pocitos 2 Option Agreement in Salta, Argentina
March 3, 2023
Vancouver, British Columbia – A.I.S. Resources Limited (TSX-V: AIS, OTCQB: AISSF, FRA: 5YHA) (the "Company" or "AIS") congratulates Recharge Resources ("Recharge", CSE: RR) on signing an option agreement with Spey Resources Corp. ("Spey") whereby Recharge may acquire up to a 100% undivided interest in the Pocitos 2 Project.
AIS retains a 7.5% royalty of the FOB price of lithium carbonate or other lithium compounds sold on Pocitos 1 & 2 pursuant to AIS' underlying Option Agreement with Spey Resources. If the Pocitos 1 and 2 options are exercised AIS will receive $1,000,000 and $732,000 respectively on or before June 30, 2023. Both Pocitos 1 and 2 have been optioned by Recharge from Spey.
Martyn Element CEO, stated, "I congratulate Recharge on successfully acquiring the Pocitos 2 Option and increasingthe size of its potential resource. AIS looks forward to continuing to facilitate exploration work with Recharge as it proceeds with its 2023 Pocitos drilling program. This is another great result for AIS in Argentina."
About Pocitos 1 & 2
Pocitos 1 and Pocitos 2 are 800 hectares and 532 hectares contiguous lithium brine projects on the Pocitos Salar located just outside of Salta, Argentina.
Previous surface sampling, trenching and VTEM Geophysics carried out in 2018 suggest the continuity of the targeted lithium brine aquifer continuing from the Pocitos 1 block through the Pocitos 2 block with Pit 10 from trenching on the Pocitos 2 block having the highest trench sample at 181 PPM lithium, the highest lithium value found on the Pocitossalar to date.
Drilling from the Recharge's 2022 drill campaign at Pocitos 1 assayed 169 PPM and over a two-week period averaging 161 PPM Lithium. The 2022 well exceeded Recharge's technical team's expectations and that of the measured lithiumcontent of the 2018 discovery wells. Pocitos 2 is permitted to drill two additional wells immediately at Recharge's go ahead (see Recharge's news release dated February 27, 2023).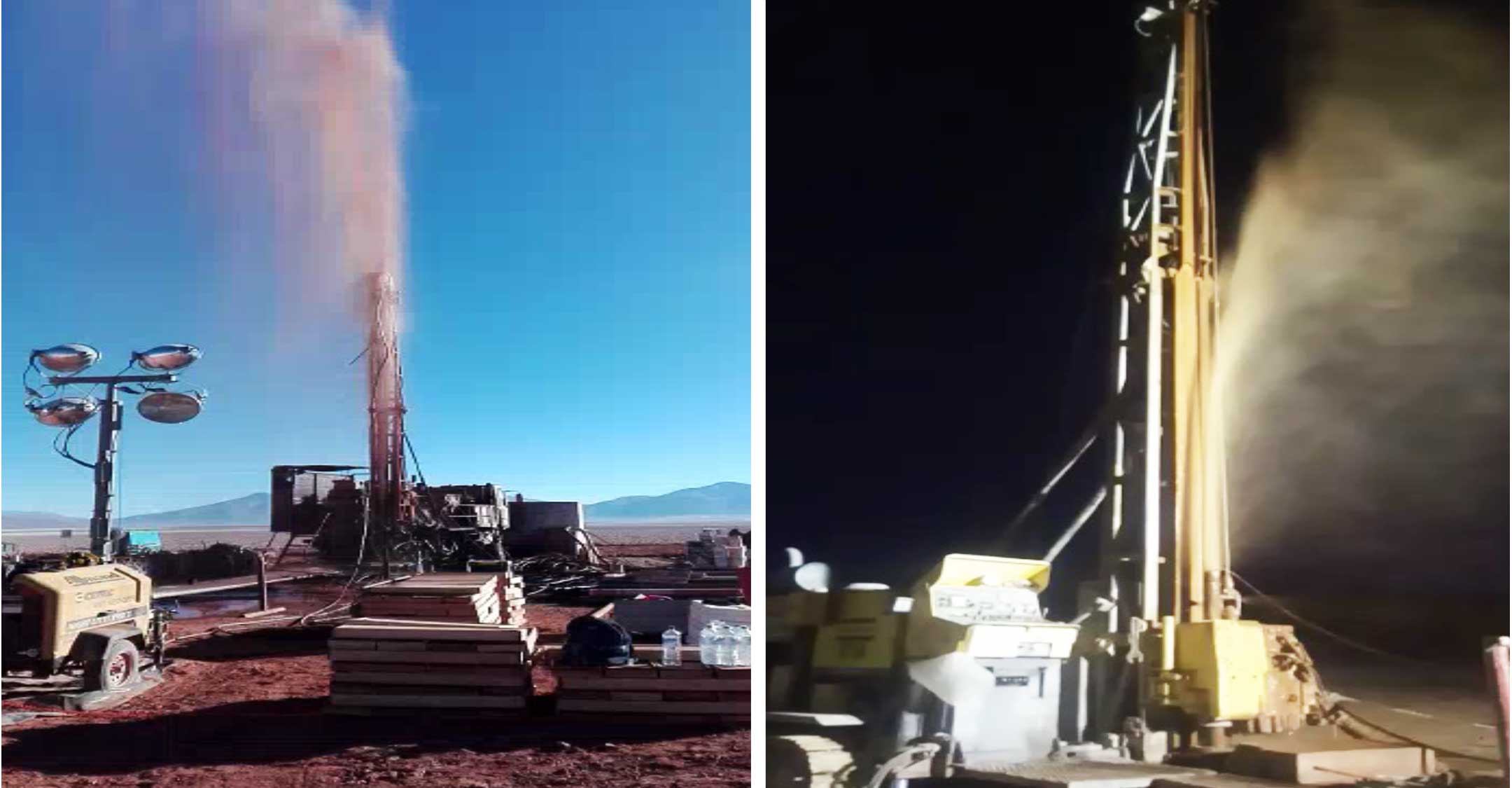 Images of 2018 brine flow from HQ 2018 drill holes on Pocitos 1 and 2, 7 km north
About A.I.S. Resources Limited
A.I.S. Resources Limited is a publicly traded investment issuer listed on the TSX Venture Exchange focused on lithium, gold, precious and base metals exploration. AIS' value add strategy is to acquire prospective exploration projects andenhance their value by better defining the mineral resource with a view to attracting joint venture partners and enhancing the value of our portfolio. The Company is managed by a team of experienced geologists and investmentbankers, with a track-record of successful capital markets achievements.
AIS has a 20% joint venture interest with Spey Resources Corp. in the Incahuasi lithium brine project in Argentina. AIShas further options to acquire four lithium concessions in the Pocitos Salar and one lithium concession in the Cauchari Salar in Argentina. AIS has granted the option to acquire the Pocitos 1 and 2 licences to Spey Resources by June 30, 2023 (subsequently optioned by Spey to Recharge). If exercised AIS will retain a 7.5% royalty. AIS has granted anoption to acquire an 80% interest in the Pocitos 7 and 9 licences to C29 Resources by June 30, 2023. AIS owns 100% of the 28 sq km Fosterville-Toolleen Gold Project located 9.9 km from Kirkland Lake's Fosterville gold mine, a 60% interest in the 57 sq km Bright Gold Project (with the right toacquire 100%), a 40% interest in the 58 sq km New South Wales Yalgogrin Gold Project, and 100% interest in the 167 sqkm Kingston Gold Project in Victoria Australia near Stawell and Navarre.
On Behalf of the Board of Directors,
AIS Resources Ltd.
Martyn Element
President, CEO, Chairman
Corporate Contact
For further information, please contact:
Martyn Element, Chairman
T: +1-604-220-6266
E: melement@aisresources.com
Website: www.aisresources.com
Neither the TSX Venture Exchange nor its Regulation Services Provider (as that term is defined in the policies of the TSX Venture Exchange) accepts responsibility for the adequacy or accuracy of this release.
ADVISORY: This press release contains forward-looking statements. Although the Company believes that the expectations reflected in these forward-looking statements are reasonable, undue reliance should not be placed on them because the Company can give no assurance that they will prove to be correct. Since forward-looking statements address future events and conditions, by their very nature they involve inherent risks and uncertainties. The forward-looking statements contained in this press release are made as of the date hereof and the Company undertakes no obligations to update publicly or revise any forward-looking statements or information, whether as a result of new information, future events or otherwise, unless so required by applicable securities laws. Neither TSX Venture Exchange nor its Regulation Services Provider (as that term is defined in policies of the TSX Venture Exchange) accepts responsibility for the adequacy or accuracy of this release.