A.I.S. Resources Begins Exploration at the De Quirón, Salta, Argentina
Vancouver, British Columbia – December 1, 2017 – A.I.S. Resources Limited (TSX: AIS, OTCQB: AISSF) (the "Company" or "AIS") is pleased to announce that it has begun exploration activities in the Salar de Quirón, (the "Chiron Project') in the Province of Salta, located approximately 10 kilometers from the township of Pocitos.
The Chiron Project is comprised of the following concessions:
| | | | |
| --- | --- | --- | --- |
| File No | Concession Name | Area Ha | Environmental Study Current |
| N° 19.457 | Pocitos 1 | 800 | Yes |
| N° 19.458 | Pocitos 2 | 532 | Yes |
| N° 19.463 | Pocitos 7 | 800 | Yes |
| N° 19.465 | Pocitos 9 | 599 | No |
| Pocitos | | 2,732 Ha | |
Environmental impact assessments have been completed on all four concessions. Applications for sampling, seismic, and 6,000 metres of drilling have been submitted.
A VES geophysics study is being prepared by Quantec Geoscience Argentina S.A. to cover the newly acquired concessions.
AIS has planned an intensive exploration program of sampling, mapping, geophysics and drilling for the period December 2017 – March 2018 and plans to complete a NI 43-101 compliant study in the first quarter of 2018.
Previous Exploration in the Salar de Quirón
The 60-kilometre-long Pocitos salar basin has been previously drill tested with 12 shallow holes in 1979 by an Argentine government agency. The most significant result from the historical work programs includes a shallow drill hole, which averaged 417 parts per million (ppm) lithium and 15,300 ppm potassium. However, AIS's recent research suggests that highly concentrated brines are at 100-350 meters depth.
AIS has completed research to understand the likely occurrence of lithium rich brines in the Salar at depth. The research model suggests that at least three adjacent salars in the region of the Salar de Quirón have been exposed to significant tectonic and volcanic events during the Proterozoic period "burying" previously existing salars at depths of 100-350 meters. AIS intends to determine the extent of this hypothesis.
In 2010, Li3 Energy Inc. announced the results of 46 brine samples taken immediately east of the Chiron Project, with brine assays ranging from 300 ppm to 600 ppm lithium.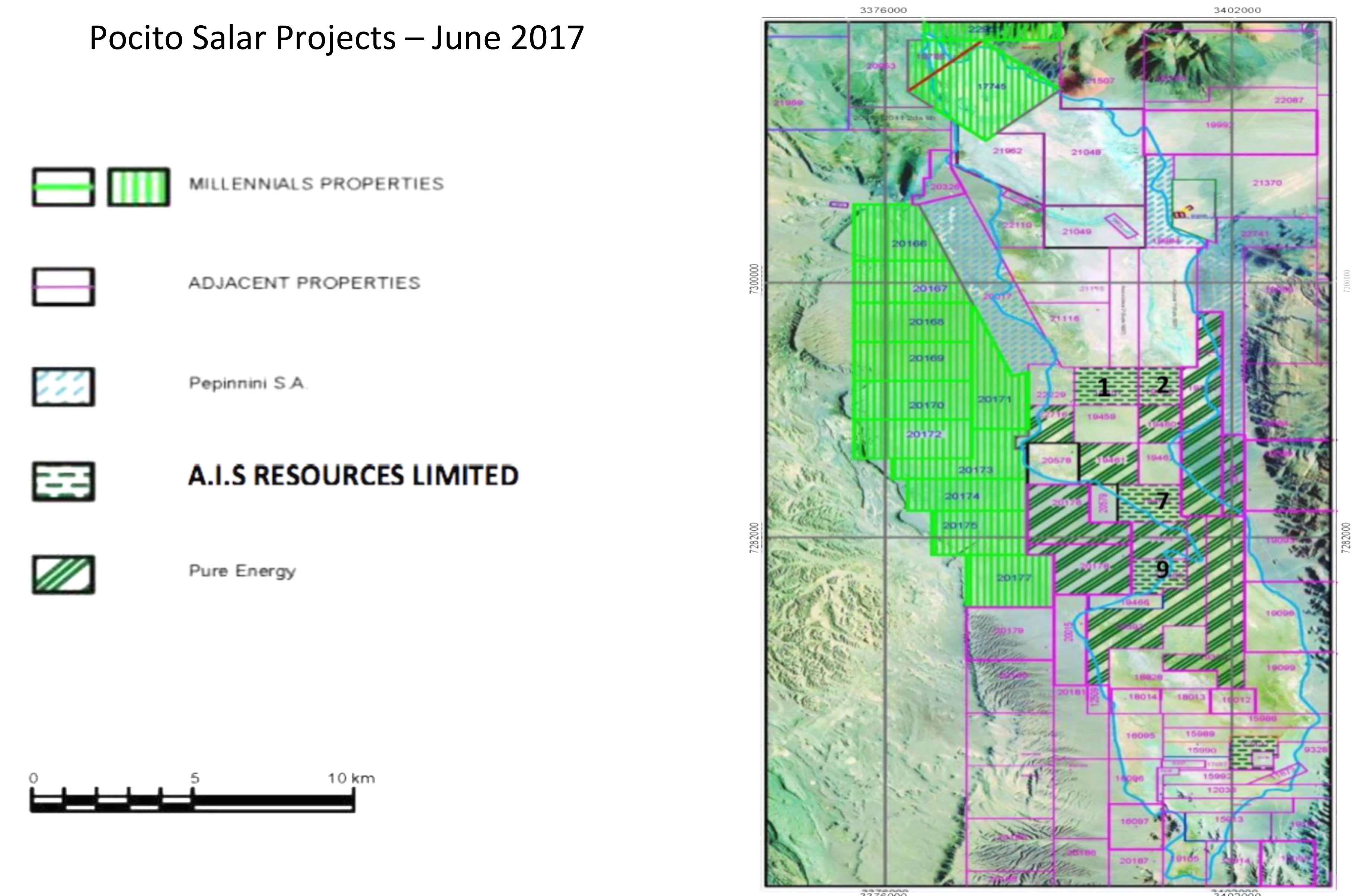 Millennial Lithium Corp. and Liberty One Lithium Corp's August 2017 VES survey reported encouraging results in the area of the Salar de Quirón near the Chiron project (view here).
Portions of Pure Energy's October 2017 VES seismic traverse the Chiron project (view here).
Marc Enright-Morin, AIS President and CEO, commented: "Very encouraging results from nearby explorers classify the Chiron Project as having significant prospectivity. We look forward to testing the hypothesis that highly concentrated brines exist at depth through our upcoming program of geophysics and drilling. Our strategy is to fast track both our Mina Guayatayoc and Chiron Projects."
Qualified Person
Phillip Thomas, BSc Geol, MBusM, MAIG, MAIMVA, (CMV), a Qualified Person as defined under NI 43-101 regulations, has reviewed the technical information that forms the basis for portions of this news release, and has approved the disclosure herein. Mr. Thomas is not independent of the Company as he is an officer and shareholder.
About A.I.S. Resources
A.I.S Resources Limited a TSX-V listed investment issuer, was established in 1967 and is managed by experienced, highly qualified professionals who have a long track record of success in lithium exploration, production and capital markets. Through their extensive business and scientific networks, they identify and develop early stage projects worldwide that have strong potential for growth with the objective of providing significant returns for shareholders. The Company is currently focused on the exploration and development of lithium properties in Northern Argentina.
On Behalf of the Board of Directors,
AIS Resources Ltd.
Marc Enright-Morin, President and CEO
Contact
A.I.S. Resources Limited
Marc Enright-Morin
President and CEO
T: 778-892-5455
E: memorin@aisresources.com
W: www.aisresources.com
ADVISORY: This press release contains forward-looking statements. More particularly, this press release contains statements concerning the anticipated use of the proceeds of the Private Placement. Although the Corporation believes that the expectations reflected in these forward-looking statements are reasonable, undue reliance should not be placed on them because the Corporation can give no assurance that they will prove to be correct. Since forward-looking statements address future events and conditions, by their very nature they involve inherent risks and uncertainties. The intended use of the proceeds of the Private Placement by the Corporation might change if the board of directors of the Corporation determines that it would be in the best interests of the Corporation to deploy the proceeds for some other purpose. The forward-looking statements contained in this press release are made as of the date hereof and the Corporation undertakes no obligations to update publicly or revise any forward-looking statements or information, whether as a result of new information, future events or otherwise, unless so required by applicable securities laws. Neither TSX Venture Exchange nor its Regulation Services Provider (as that term is defined in policies of the TSX Venture Exchange) accepts responsibility for the adequacy or accuracy of this release.
https://aisresources.com/wp-content/uploads/2016/11/AIS-Logo-1-loading-icon.png
0
0
AIS-H
https://aisresources.com/wp-content/uploads/2016/11/AIS-Logo-1-loading-icon.png
AIS-H
2017-12-01 08:00:50
2018-01-19 18:26:27
A.I.S. Resources Begins Exploration at the De Quirón, Salta, Argentina