Quebec Cobalt Projects
Project Highlights – Lac Manitou and Lac Volant Cobalt Properties in Sept Iles
Located in a geological terrane that is analogous with Voisey's Bay
Early stage targets with promising Cobalt-Nickel-Copper results nearby
Project Summary
The properties are located north of Sept-Îles, are within an established nickel-copper magmatic sulphide terrane that was explored extensively in the late 1990's. The area has been noted as having several geological similarities with the Voisey's Bay District, in northern Labrador. As of 2013, proven and probable reserves at Voisey's Bay consist of 17.2 Mt grading 2.38% Ni, 1.34% Cu, and 0.11% Co, and highlight the potential of the geological exploration model. Click on map for an enlarged view.
Lac Manitou Property
The Lac Manitou Property includes three claim blocks totalling 87 mineral claims and 4,726 hectares (11,678 acres) in size.
The western block of claims covers the Tortuga Showing which includes surface rock sampling of Ni-Cu bearing sulphides, with one sample returning 0.35% Co.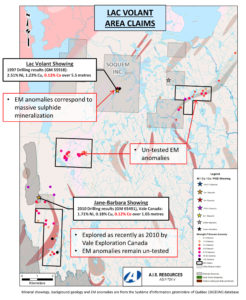 The eastern block of claims at the Lac Manitou Property covers the geological continuation of the Lac Manitou group of showings. The showings include several nickel, copper, cobalt and platinum group element surface samples.
The northern block of claims covers the Gagnon Showing, with a rock sample of disseminated sulphides that contains 2% Cu and 0.4 g/t Au. Click on map for an enlarged view.
Lac Volant Property
The Lac Volant Property includes three claim blocks totalling 22 mineral claims and 1,200 hectares (2,967 acres) in size.
The property covers several known un-tested conductors within the immediate vicinity of the Lac Volant Showing. The Lac Volant Showing was discovered as a result of the exploration in the 1990's. Drilling of the area in 1997 returned 2.51% Ni, 1.23% Cu, and 0.13% Co over 5.5 metres.
The southern claim block covers several un-tested conductive anomalies that are located south of the Jane-Barbara Showing. The Jane-Barbara showing was drilled in 2010 by Vale Canada, with highlighted results of 1.71% Ni, 0.18% Cu, 0.12% Co over 1.05 metres.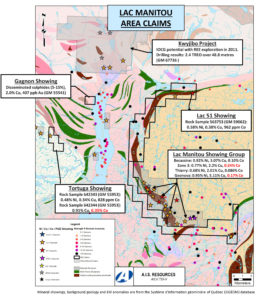 Management cautions that past results or discoveries on adjacent properties may not necessarily be indicative to the presence of mineralization on the Company's properties.