Chiron Project
In Greek mythology, Chiron was the "wisest and justest of all the centaurs," a trainer of demigods. His personal skills tend to match those of Apollo, his foster father (along with Artemis): medicine, music, archery, hunting, gymnastics and the art of prophecy. Chiron was known for his knowledge and skill with medicine and thus, was credited with the discovery of botany and pharmacy, the science of herbs and medicine. In Greek it is Χείρων, Kheiron, meaning "hand". In English it is Kheiron or Chiron.
The Chiron Project consists of four concessions in the Salar de Quirón in the Province of Salta, located approximately 10 kilometers from the township of Pocitos. Very encouraging results from other, nearby, explorers classifies the Chiron Project as having significant prospectivity.
Environmental Impact Assessments
| | | | |
| --- | --- | --- | --- |
| File No | Concession Name | Area Ha | Environmental Study Current |
| N° 19.457 | Chiron 1 | 800 | Yes |
| N° 19.458 | Chiron 2 | 532 | Yes |
| N° 19.463 | Chiron 7 | 800 | Yes |
| N° 19.465 | Chiron 9 | 599 | No |
| Chiron | | 2,732 Ha | |
The Pocitos 9 environmental impact assessment study ("Informe de Impacto Ambiental Etapa de Exploración") is being completed and will be lodged shortly allowing AIS to commence seismic and drilling immediately. A VES geophysics study is being prepared.
During December 2017 to March 2018 an intensive exploration plan is planned with sampling, mapping, geophysics and a drill program.
AIS has completed significant research to better define the tectonic events of the adjoining Salares to understand the likely occurrence of lithium rich brines in the Salar at depth. New research suggests at least three adjacent Salares have been exposed to significant tectonic and volcanic events during the Proterozoic period "burying" previously existing Salares.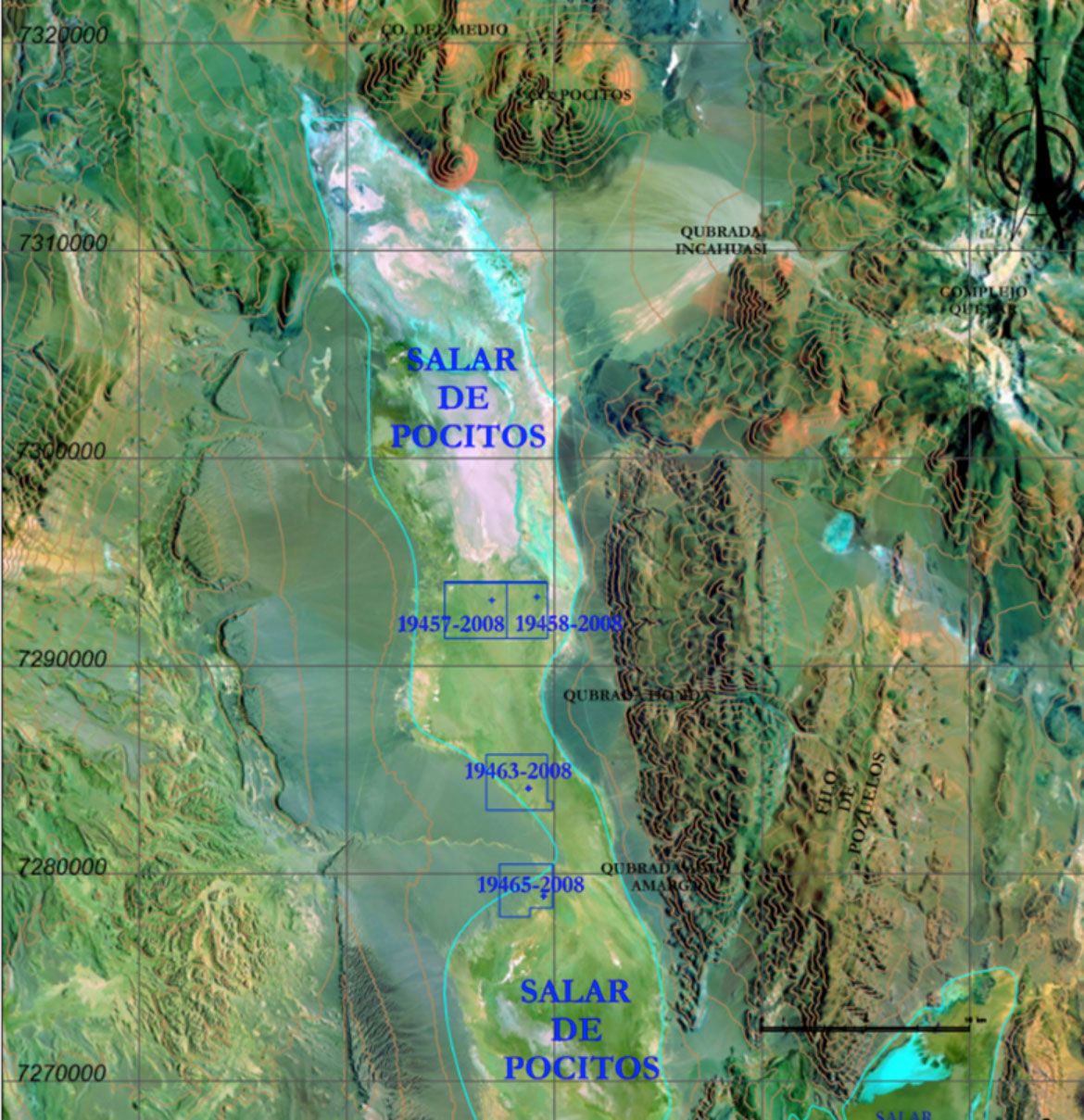 Previous Explorers in the Salar de Quirón
In October 2017 Pure Energy Lithium released an announcement that it had completed a VES survey with positive results (view results here).
Near A.I.S.' Chiron project, Millennial Lithium Corp ("Millennial") and Liberty One Lithium Corp. have reported encouraging results of their exploration in this area of the Salar de Quirón – view results here).
The most significant result from the historical work programs includes a shallow drill hole, which averaged 417 parts per million (ppm) lithium and 15,300 ppm potassium. However, new research suggests that highly concentrated brines are at 100-350 meters depth and it is AIS intention to complete a NI 43-101 compliant study in the first quarter of 2018 and determine the extent of this hypothesis.